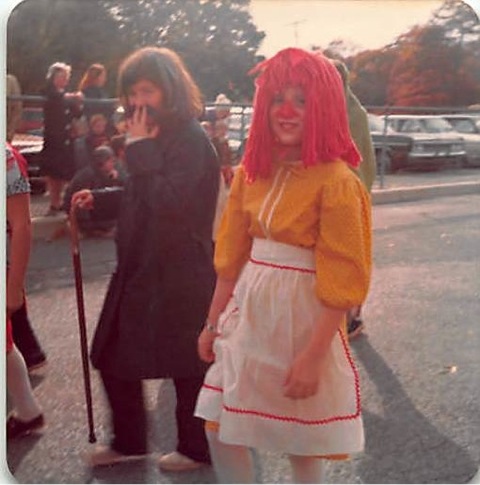 Dear Readers,
Sixth Grade Halloween Parade, 1971. I'm dressed as Raggedy Ann, and my best friend Jane is dressed as "the dirty old man" from "Laugh In." We're eleven, that tricky age where we're still young enough to enjoy dressing up, but old enough to begin wondering if the whole enterprise isn't a bit, well, dorky. Flash forward one year: we would rather die than put on Halloween costumes.
Thankfully, some of us get over that feeling. The best part about dressing up for Halloween is the fun of being someone (or something!) else. That's why the holiday always reminds me of romance novels. Stepping into another's skin can be exciting, scary, fun, exhilarating, seductive—a few of the things a romantic heroine might feel. If a romance novel is written well, you're not just reading it, you're living it. You are a Highland Queen in the 11th century, or the gentle owner of knitting store in a cozy New England town, or a betrayed Countess who must flee1850s Paris for the more conservative mores of London.
If you're not dressing up this Halloween, perhaps curling up with a hot cup of tea and a good romance is a fine alternative. All you have to do is turn to the first page, and off you go. Who knows who or where you'll be by the time the clock chimes midnight?
Til November,
Deirdre
---
NEW YORK BLADES: FIRST HOCKEY SERIES,
BEST HOCKEY SERIES!
"If you've never read any of Deirdre Martin's New York Blades books, you are missing out."
—The Brazen Bookworm

"Deirdre Martin knows how to write a beautiful single title romance."
—Single Titles

"Contemporary romance doesn't get much better than this."
—All About Romance