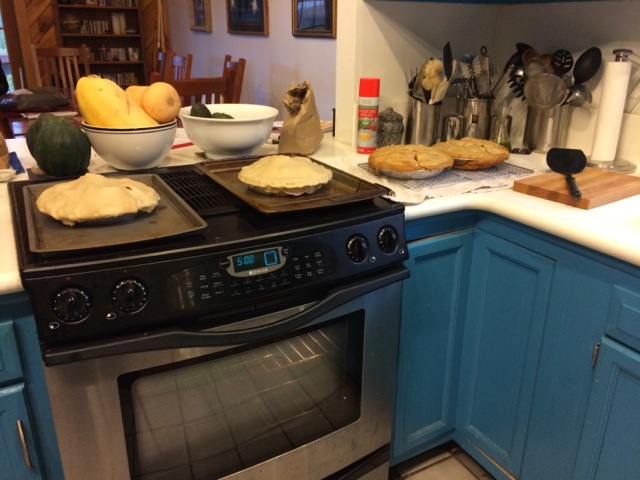 Dear Readers,
As you can see, I've already started my Thanksgiving baking. The two pies on the right are rhubarb; the two about to hit the oven are apple. No one in my family likes pumpkin pie, which I always thought was sad until this past weekend, when I saw fights erupting over nutmeg in the spice aisle of my local supermarket.
I love baking, and now that the holiday season has arrived, I have an excuse to really go at it. Ironically, it's always when I'm up to my elbows in flour, butter and egg yoke that my best ideas come to me (ot when I'm in the shower, of course.) You do not want to know how many Blades' books started out as ideas scribbled down on dough flecked, vanilla extract-stained papertowels!
Baking also gives me time to reflect, and at Thanksgiving my thoughts naturally turn to some things Mark and I have to be grateful for: our Newf, Moses; steady work, enough food to eat, a roof over our heads; the man who shows up to exterminate the clusterflies; a migraine specialist; enough pies to feed us through Ithaca's first blizzard. (You're supposed to live on pie when you're snowed in. You know that, right?)
I hope you and your family have a wonderful Thanksgiving!
See you in December!
Deirdre
---
NEW YORK BLADES: FIRST HOCKEY SERIES,
BEST HOCKEY SERIES!
"If you've never read any of Deirdre Martin's New York Blades books, you are missing out."
—The Brazen Bookworm

"Deirdre Martin knows how to write a beautiful single title romance."
—Single Titles

"Contemporary romance doesn't get much better than this."
—All About Romance