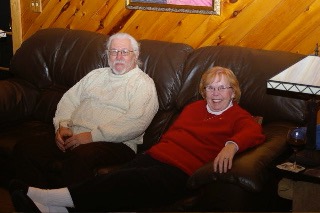 Dear Readers,
I'm like most people when it comes to Valentine's Day: say those two words and I'm picturing candlelight dinners, gourmet chocolates, whispered intimacies. Valentine's Day's means romance. And love. Especially love.
This year, it's true love and how it envelops so much more than romance that I can't stop thinking about. True love includes, among other things: respect; compromise; the ability to truly listen; and finally, being there for each other when the going gets tough. My parents, Bill and Barbara Martin, have been married for 55 years, and there's never been any doubt of true love between them. It's been especially obvious since my mom's diagnosis of Alzheimer's Disease.
Their true love shines every time my mother can't remember the date, or when she asks the same question multiple times and my dad patiently answers her. For my mom, there's true love every time she pats his hand and acknowledges she needs him more now than ever: "He's a good man. I've been so lucky to have him." Her memories might be fading, but so far, her feelings of love and appreciation for my dad remain intact.
My mom hates that she has Alzheimer's. She doesn't want to be a "burden" on anyone. But my father lets her know that she's not a burden: she's the girl he fell in love with in high school, the one who gripped his hand tightly through family melodramas, health emergencies, and work bullshit. Now, they're facing this new challenge together: with patience, smiles, tears, jokes, tenderness, and yes, fear.
That's true love, as true as it gets.
I hope all of us get to experience it in our lifetime.
Happy Valentine's Day,
Deirdre
---
NEW YORK BLADES: FIRST HOCKEY SERIES,
BEST HOCKEY SERIES!
"If you've never read any of Deirdre Martin's New York Blades books, you are missing out."
—The Brazen Bookworm

"Deirdre Martin knows how to write a beautiful single title romance."
—Single Titles

"Contemporary romance doesn't get much better than this."
—All About Romance